Otley boy's drugs plea backed by The Whartons Primary School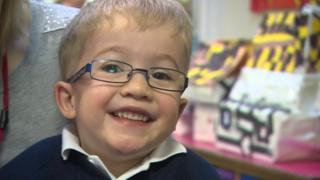 Classmates of a six-year-old boy who suffers from a rare medical condition have backed his appeal for funding for a drug to help with his illness.
Sam Brown suffers from the incurable Morquio syndrome, which affects the way his skeleton grows.
Since a clinical trial ended last year Sam has been receiving the drug Vimizim on a compassionate basis.
NHS England had been due to rule last month on whether to fund the drug but that decision was delayed.
Pupils at The Whartons Primary School, in Otley, have attended a special assembly about Morquio syndrome and written to Prime Minister David Cameron asking for help.
One pupil said: "We're making paper faces and speech bubbles and writing 'Keep Sam smiling'."
'Degenerative effects'
Another said: "They are going to take them to London to David Cameron. I hope he realises how much Sam needs his medicine."
Sam's mother, Katy Brown, said she was "genuinely concerned" his treatment might stop if NHS England did not make a decision within the next few weeks.
She said: "There's been so many positive impacts of the drug. He's benefitted hugely from it.
"The minute he stops receiving it the degenerative effects of the disease will start and once they start, even if he gets it again in the future, you can't turn back the clock, that damage is done, it's permanent."
Sam and his mother are due to travel to London next week with Greg Mulholland, Liberal Democrat MP for Leeds North West, to meet with Mr Cameron.
Mr Mulholland said NHS England's ruling had been delayed after its decision making process was found to be "discriminatory against people with ultra-rare conditions".
He said: "We will be telling the Prime Minister something else needs to be put in place in the interim to allow a decision to be made on that funding [while NHS England put new processes in place]."
A spokesman for NHS England said funding for elosulfase alfa (Vimizim) was under consideration and that a 90-day consultation period is due to begin "within the next few days".
But as a result of the consultation, "decisions on new investments for 2015/16 will not be made ahead of April," he added.
He said NHS England sympathised with patients and families awaiting a decision.