Bronte writing table goes on show at Haworth Parsonage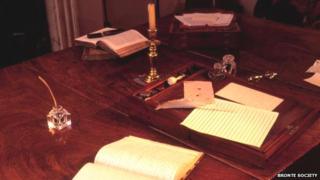 A writing table at which the Brontë sisters penned some of their greatest works has gone on public display after it was bought for £580,000.
The table was purchased by the Bronte Society at Haworth with a grant from the National Heritage Memorial Fund.
It has now gone on show at the Brontë Parsonage Museum in Haworth.
The table, which witnessed the creation of Emily Brontë's Wuthering Heights and Charlotte's Jane Eyre, was sold in 1861 after their father Patrick's death.
---
The Brontë sisters
Charlotte, Emily and Anne Brontë were 19th Century novelists who formed one of the world's most famous literary families
Often left alone together in their isolated Haworth home, all three sisters began to write stories at an early age
Charlotte's Jane Eyre and Emily's Wuthering Heights are hailed as British classics. Anne's The Tenant of Wildfell Hall was a huge bestseller
Tragedy struck the family when Emily and Anne both died of tuberculosis within six months in 1848-49. It also killed their brother, Branwell
Charlotte continued to write and later married, but she too died in March 1855
---
Ann Dinsdale, collections manager at the Haworth Parsonage, said: "If it had gone to auction we've been advised that it could have fetched £1m and probably would have gone to an overseas collector.
"At least now we've secured it for the nation and we're so grateful to the Memorial Fund for all their support with this."
The mahogany drop-leaf table has ink blots, a large candle burn and a letter E carved into its surface.
It has now gone on public display in its original position in the dining room at the parsonage.