Kirklees Council to cut over 1,000 jobs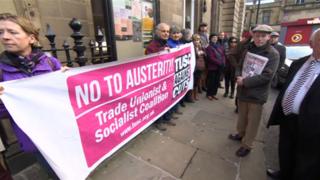 More than 1,000 jobs will be lost as Kirklees Council cuts £69m from its budget over the next three years.
The council, which is under no overall control, voted to raise council tax by 1.95%. The budget was passed by Labour and Green councillors voting together.
The Conservatives had wanted to freeze council tax.
The Labour leader of the council David Sheard said the budget was an attempt to meet an increasing demand for social care services.
Protesters against the cuts held a rally outside the budget meeting at Huddersfield Town Hall on Wednesday.
'We have to change'
Mr Sheard claimed that if changes were not made, by 2022 the entire council budget would be be spent on social services.
"We have got to make sure we can protect the people who can't protect themselves," said Mr Sheard.
"That's our biggest job, it's not an easy job. We have got to change the way we deliver services to make sure we can protect as many people as possible."
The council, which serves the area around Batley, Dewsbury, Huddersfield and Holmfirth, currently employs about 7,000 people, excluding teachers.
It has a budget of about £305m from government grants, external income and business rates.
The authority said all of its services would suffer some cuts.
Other saving proposals include closing public toilets and scrapping funding for music tuition. changes to library services and moving the authority's museums and galleries "to a more commercial model".
Loss-making open-air markets will close and a public consultation is under way on removing free transport to faith schools.