New Leeds public square planned for Wellington Place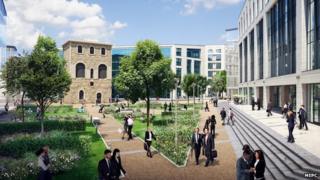 A new public square is set to be built in Leeds in time for a spring 2016 opening.
Tower Square, which will be part of the Wellington Place office development, will stretch from the historic Lifting Tower to Whitehall Road.
The Old Wagon Hoist, which dates back to 1850, will be located at the heart of the square.
Landscaped trees and planting are planned, along with seating and free WiFi.
A new office scheme, funded by CPPIB and Hermes Investment Management and developed by MEPC, is currently under construction in Wellington Place and will open in the first quarter of 2016.
James Dipple, chief executive of MEPC, said: "We are excited to be creating what will be a superb and welcoming addition to our thriving city."