Frozen North American river delays Wakefield bin collections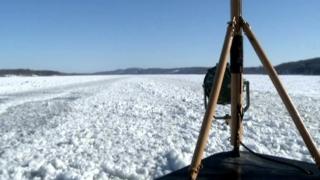 Changes to bin collections in West Yorkshire have been delayed because new machinery is stuck on a frozen North American river.
Wakefield Council said vital equipment for a new recycling facility was trapped in ice on the Hudson River, 3,500 miles away.
The new schedule for collecting household waste was due to start on 18 March.
The authority said the service would now be introduced in the summer.
The council could not say exactly where the trapped equipment was, but confirmed it was on its way to the Gulf of St Lawrence in Canada to be shipped to the UK.
Labour councillor Maureen Cummings, cabinet member for the environment, apologised for the delay.
'No alternative'
"Once they became aware of situation in North America, our waste PFI partners, Shanks, identified another facility in the UK to take the district's waste until South Kirkby is equipped and ready," she said.
"But they were notified at the last minute that this is not now an option and cannot find another facility to take the district's waste at such short notice.
"This leaves us with no alternative but to postpone the planned changes to the district's waste collections until later in the year."
Ms Cummings said people should continue with the existing refuse collection system.
Parts of Canada and the USA have seen record low temperatures during the past two months, with Toronto recording -19C (-2F) in February.