Bradford free school founder Sajid Raza charged with fraud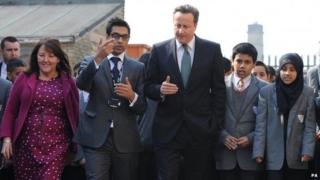 The founder and former principal of a flagship free school has been charged with fraud over alleged financial irregularities at the establishment.
Sajid Raza, 42, of Spring Gardens Road, Bradford has been charged over his time at the city's Kings Science Academy.
He is accused of fraud by abuse of position, false accounting, obtaining money transfers by deception and fraud by false representation.
The school has been praised in the past by Prime Minister David Cameron.
Mr Raza has been released on bail and will appear at Leeds Magistrates' Court at a later date.
The academy, one of England's first free schools, opened in September 2011 and was praised by Mr Cameron when he visited it in March 2012. Mr Raza said he set up the school because he wanted to provide a first class education to some of the city's most deprived children.
He was later dismissed and the school has since become part of the Dixons academy group.
The Department for Education investigated the school after a whistle-blower made allegations about its governance, and found nearly £80,000 of public money had not been used for "its intended purpose".