Tributes to boys killed in Leeds crash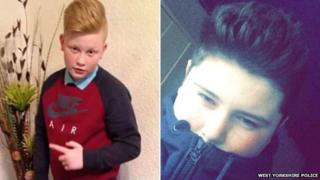 The deaths of two boys in a car crash has been described as a "devastating tragedy" by one of their teachers.
Rhys Baker, 13, and George Wharton, 14, died when the car they were travelling hit a tree on the A62 Gelderd Road, in Morley, Leeds on Saturday.
Two other boys, Kameron Walters, 14, and Joshua Van Veen, 15, suffered life-threatening injuries in the crash.
The dead teenagers have been described as popular and well-liked students with "bright futures".
George Wharton attended The Morley Academy and principal, Leanne Griffiths said: "George was a popular boy and his loss will be felt profoundly by staff and students.
"This is a devastating tragedy, the effects of which are being profoundly felt within school and across the wider community in Morley."
Dave Gurney, executive head teacher at Bruntcliffe School, where Rhys Baker attended, said: "Our condolences go to the families of both the boys who lost their lives in this tragic accident.
"Rhys was a well-liked member of his year group and will be sadly missed."
'Never forgotten'
Leeds City Council's children's services said it would be offering support to both schools.
The council's deputy leader, Judith Blake, said: "Our thoughts are with the families and friends of the young people involved in this terrible and tragic accident.
"Specialist advisors will be on hand in the academy to support students and staff as we come together to support one another at this very difficult time."
Floral tributes have been left at the scene of the crash.
One, marked in memory of George Wharton, reads: "It doesn't seem real.
"You were so full of life and made everyone smile. You're the kindest, sweetest, most loving person I'll ever meet."
A second, for Rhys Baker, said: ""RIP Rhys, my little mate. You've gone, but you'll never be forgotten."
Morley's mayor, Wyn Kidger, said everyone in the town was thinking of the families.
"We'll try to help as much as we can and be there for the families.
"We all pull together through tragic things like this. We all feel for each other and are there to support."
The crash happened at around 13:50 GMT on Saturday.
The teenagers were travelling in a blue Peugeot car, which police said had left the road "at speed".
The driver, a 21-year-old man, is in hospital in a serious but stable condition.
West Yorkshire Police has asked people to "show restraint" when mentioning the crash on social media.
Supt Sam Millar said: "This has been an appallingly tragic incident and it is understandable that emotions will be running high. That said, we would ask people to think very carefully about the nature of any comments they make on social media in relation to this incident.
"We would ask that people refrain from speculation and allow the investigation to take its course."