Leeds hotel builder GB Group goes bust with 350 jobs lost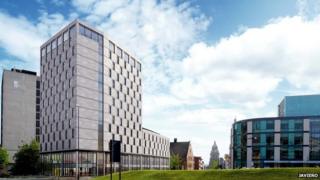 A company building a £32m hotel close to Leeds Arena has gone into administration with the loss of 350 jobs.
GB Group Holdings Limited and GB Building Solutions Limited has offices in Surrey, Newcastle, Rugby, Wakefield and Stockport.
The group had secured a loan of £4.8m from the Local Enterprise Partnership (LEP) towards the scheme.
The LEP said it remained committed to the hotel plans.
It added it had made the loan to a separate company within the GB Group which had not gone into administration.
In a statement, it said: "The LEP and other private sector lenders will work with Oxford GB Two Limited towards immediate plans to begin procurement of a replacement contractor to finish the construction and complete this key project."
The 14-storey hotel had been expected to open next year.
It would have been operated by the Hilton Group, under a franchise agreement, with the GB Group retaining ownership.
Tony Nygate, of administrators BDO, said: "The companies experienced a serious deterioration in their working capital position and as a result were unable to continue to operate.
"Regrettably, it has been necessary to make all employees redundant, save for a small number to assist the administrators."
Mr Nygate said he was seeking buyers for parts of the businesses or its assets.