Beeston rape police release e-fit of suspect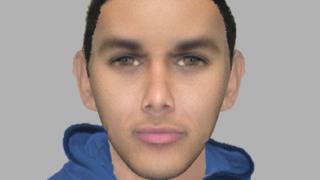 Detectives investigating the violent rape and attempted murder of a woman in Leeds have issued an e-fit of the suspect.
The 18-year-old was waiting at a bus stop when she was attacked and "left for dead" on Friday.
Officers said both the victim and the attacker were Asian and it was not being treated as "racially-motivated".
Police said the suspect was of Pakistani or Middle Eastern origin, in his early 20s with receding black hair.
The woman was dragged into a garden and raped, suffering head injuries and a suspected broken hip in the assault.
West Yorkshire Police said following the attack it was "no time for family loyalty - this was an horrific incident and the victim is lucky to be alive."
Det Supt Nick Wallen said: "The victim is making a good recovery in hospital and we are continuing to support her and work very closely with her to gain as much information as we can about the incident.
"As part of that process, we have been able to produce an e-fit image of the man from her description of him."
Officers said the suspect was wearing dark clothing and possibly a light blue top with a hood.
Mr Wallen added: "We are still considering the possibility that the suspect could be somebody who is new to the area.
"They may be staying locally in a bedsit or hostel and I would like to hear from anyone who runs such premises who thinks they know who it might be."
Police still trying to trace two potential witnesses, a woman who gets on to a Number One bus bound for Leeds shortly before the attack late on Friday night and a man with her who walks away down Beeston Road.