Morrisons chief admits recession price rises 'mistake'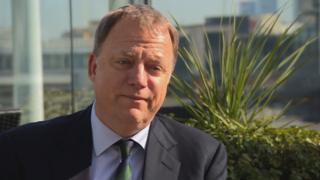 More reasons to shop at Morrisons. That's exactly what shoppers need if the supermarket chain is going to keep its place in the game of "supermarket sweep" - because at the moment the big four grocery chains aren't having it all their own way.
The chairman of troubled supermarket chain Morrisons says the major supermarkets have lost their way on pricing - and that customers have voted with their feet.
Andrew Higginson was speaking as the Bradford-based company begins to implement a new strategy to reverse a large fall in profits.
All of the UK's grocery giants are finding it tough, but Morrisons has been hit particularly hard.
Last year its profits halved - taking it to the lowest level for eight years. If you also include all of the things it had to write off last year, like a fall in the value of its property, then it made a loss of nearly £800m.
I caught up with Mr Higginson in the City and he was candid about the problems Morrisons and the other major supermarkets are facing after several years of recession and increased competition from the discounters.
"I think the supermarkets collectively have believed they didn't have to be any cheaper on price, that they could charge a little bit more - and that was a collective mistake, if you like, and Morrisons was no different to any of the others in losing its way on that," he told me.
"The supermarkets got seduced into this idea of widening margins during a recession and that meant putting up prices and customers twigged that and voted with their feet."
Morrisons is Britain's fourth largest supermarket chain. From humble roots more than a century ago as a stall on Bradford market it now employs almost 125,000 people, with 11 million shoppers crossing its threshold every week.
The Morrisons brand was built in Yorkshire with value at its core - but the company had big ambitions.
A decade ago it bought the Safeway group of stores, which brought Morrisons into the Premier League of grocery chains.
However, it also stretched the company and when chairman Sir Ken Morrison retired in 2008, new management brought in new ideas. Loyalty cards, online shopping and convenience stores were all part of the plan but many felt it was too late to the party.
Former insiders at the company have been critical of its performance in recent years. Roger Owen was the company's property director, and close to Sir Ken Morrison.
He told me: "Morrisons doesn't know what it wants to be.
"It's tried to be all things to all people - one minute it's trying to be Waitrose, the next minute a discounter.
"You've got to stick with your core principles, it's all about that."
Profits are now at their lowest for eight years. In January it was announced that chief executive Dalton Phillips was leaving. The company says it intends to get back to basics with £1bn worth of price cuts to woo customers back.
The problem for Morrisons and the other big chains is that shopping habits are changing. Customers are becoming more promiscuous, buying less in-store and shopping around for deals.
The German discount chains Aldi and Lidl have taken customers from all the major supermarket chains. In the north of England, which is Morrisons' heartland, the Danish discounter Netto has recently returned to the fray, backed by Sainsburys.
Supermarkets, it seems, are springing up like buy one, get one free offers.
But it's not all bad news for Morrisons - there's still a lot of affection for the brand, and the new management are hoping to tap into that.
'Harsh truth'
Mr Higginson, who is a former Tesco executive, told me: "All the supermarkets have had a difficult few years and perhaps they've slightly lost sight of the things they've always been very good at which is looking after customers and giving them great prices.
"They are all slightly guilty of looking at each other, you see that in a lot of their advertising, they've been talking to each other rather than talking to customers.
"The harsh truth is that our destiny is in our own hands, we have the ability to make this business a winning business for customers and it's really down to the management now to make sure that happens."
A new chief executive, David Potts, another former Tesco chief, has now started running Morrisons' operations. According to his chairman he has one main target.
"The number one priority is to get the stores humming, really get customers to come back in and trade our stores and offer them great Morrisons products at great prices."
Asked what it will take to get those shoppers back through the door, Mr Higginson told me: "We've got to re-establish trust back in the prices and that'll take some time and it's a gradual thing because trust takes a long time to build up and can be wiped out in an instant."
You can see Steph McGovern's full interview on BBC Inside Out in Yorkshire & Lincolnshire on BBC One at 19:30 on Monday and afterwards on the iPlayer.