Herbal impotence pills sold online 'contained arsenic'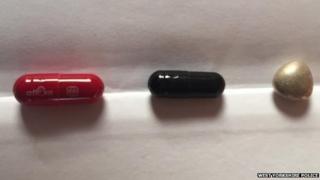 A warning has been issued after a man who bought a herbal impotence remedy online was hospitalised with arsenic poisoning.
The un-named man, from Leeds, bought three different types of tablets advertised as supplements to combat erectile dysfunction.
West Yorkshire Police said the black tablets contained "dangerously high levels of arsenic".
A 51-year-old man from the West Midlands has been arrested.
He has been interviewed on suspicion of selling non medicinal poison and released on bail.
The force said the black tablets were bought from BMG Herbal Products in Birmingham.
'Risk to health'
A spokesman said: "We would urge anyone who has purchased black tablets from BMG Herbal Products, which are being sold as herbal supplements for impotence, to stop taking them, contact police and seek immediate medical advice if they are experiencing any adverse symptoms."
Police said the amount found in the man's body could have had "serious consequences".
They said he fell ill 12 days ago, but the source of the "unusual level" of arsenic in his system had only just been found.
Det Ch Insp Lisa Atkinson said the force, which is carrying out forensic tests on the pills, is conducting ongoing inquiries into their supply.
"Based on what the man involved has told us, we suspect the tablets may have been the source of the arsenic he has consumed," she said.
She advised people consuming similar tablets bought on the internet to be aware of the risk to their health.
"While it is expected that he will make a full recovery we are told this is unusual for the level of arsenic in his system and that consequences could have been far more serious."