Patrick Stewart steps down from Huddersfield University chancellor post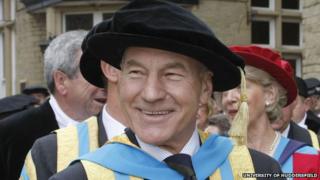 Actor Sir Patrick Stewart has announced he is to step down as chancellor of the University of Huddersfield after serving more than 10 years in the role.
The X-Men star is leaving the role due to "acting work commitments", the university said.
Sir Patrick, born in nearby Mirfield, West Yorkshire, was appointed in 2004 and has presided over the institute's many graduation ceremonies.
He said he was "extremely proud of the university and all it has achieved".
He said he would still "be taking every opportunity to talk about the university and I look forward to continuing to meet Huddersfield graduates around the world."
'Most admired'
Sir Patrick is expected to leave his role after graduation ceremonies held in the summer.
The university said he would be given the honorary title of Emeritus Chancellor after his departure.
Vice-Chancellor Prof Bob Cryan said he was "very sorry" the star had decided to leave the university.
Mr Cryan said the actor "must have been the most prominent and most admired chancellor in the whole UK university sector."
"He was always determined to be much more than a figurehead and he made a real contribution to the progress of the University of Huddersfield."