Arson arrest after Hemsworth flats fire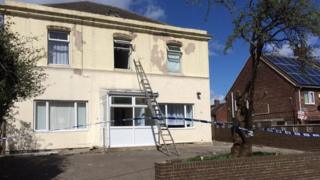 A man has been arrested on suspicion of arson after a fire in which a woman jumped to safety from a first floor window.
The blaze, at a block of flats in Hemsworth, West Yorkshire, also saw five people rescued by fire crews using a ladder.
A further 10 people escaped by themselves when the fire broke out in Highfield Road at 23:45 BST on Friday.
The 32-year-old man is being held in police custody.