Severed ear in Huddersfield street sparks police search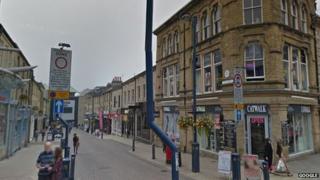 A partially severed diamond-studded ear has been found on a pavement after it was bitten off a man during a fight.
Police are searching for the man after the fracas between a group of people on King Street, in Huddersfield, at about 21:20 BST on Sunday.
Officers believe he fled the scene and did not seek medical treatment. They are urging him to come forward.
Two men, aged 37 and 45, from the Holmfirth area of West Yorkshire, have been arrested on suspicion of wounding.
A photograph of the ear, complete with the diamond stud earring, has been posted on social media but the victim has not yet been traced.
A spokesman for the force said: "The male who we believe was injured in this incident has still not been traced and has not contacted police.
"We have recovered a partially severed ear, the outer section of it. It still has the diamond stud in it."