Corfu gas deaths: Mum confronts CEO over inquest silence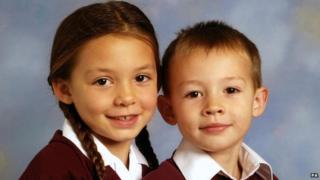 The mother of two children who died on holiday has confronted the former boss of Thomas Cook over his decision not to answer questions at their inquests.
Robert and Christianne Shepherd, from Horbury, Wakefield, died from carbon monoxide poisoning in Corfu in 2006.
Manny Fontenla-Novoa, the tour operator's former chief executive, exercised his legal right not to answer questions that may incriminate him.
The children's mother Sharon Wood told him he should "speak up for himself".
Robert and Christianne died while they were on holiday with their father and step-mother at Louis Corcyra Beach Hotel, booked by Thomas Cook.
Experts have previously told the inquest how a hot water boiler, which was in an external outhouse, had a number of faults and this was the source of the lethal carbon monoxide.
Speaking from the public gallery at the hearing in Wakefield, Mrs Wood made her comments after Mr Fontenla-Novoa refused to respond to questions from coroner David Hinchliff and the family's barrister Leslie Thomas QC.
Earlier, Mr Hinchliff had told Mr Fontenla-Novoa "this is not a trial" but "there is the potential you might have to be involved in future criminal proceedings... and you don't have to answer questions which could incriminate you."
Mr Hinchliff then started to take the witness through a statement he made to police in 2009.
Mr Fontenla-Novoa was asked to confirm that he said: "The deaths of Robert and Christianne Shepherd are very significant events in the company's history as they are the only customers of Thomas Cook to have died from carbon monoxide poisoning.
'Profit before safety'
"Since their deaths in October 2006, this awful tragedy has been a major priority occupying my attention and also the attention of all my senior management and the board."
Mr Fontenla-Novoa replied: "I decline to answer that."
He also declined to answer that he had said: "I believe every employee employed by Thomas Cook has been impacted by this tragedy and we have made every effort to consider the best interests of the family."
The witness then faced questions from Leslie Thomas QC, the barrister representing the family.
Invited to "look my clients in the eyes" and express his sympathy by Mr Thomas, the witness said: "I deeply regret the incident that occurred."
Mrs Wood then said: "Speak up for yourself then."
The barrister continued: "I'm going to suggest to you that what was more important to Thomas Cook was profit, so Thomas Cook put profit before safety."
Mr Thomas asked about Thomas Cook's health and safety systems and the witness continued to refuse to answer his questions.
'Lead by example?'
The barrister said: "If these systems worked, these kids would be alive. So what happened?"
Again, Mr Fontenla-Novoa declined to answer.
Mr Thomas also asked the former CEO about comments in his statements about how he and his staff would give full co-operation to investigators.
Mr Thomas said: "Your staff have all sat there and declined to answer. Are you going to lead by example and co-operate?"
The witness again refused to answer.
Mr Thomas then read Mr Fontenla-Novoa a series of specific questions he said the family had asked him to put directly, which he also refused to answer.
The hearing continues.