Leeds' Anglo Saxon gold hoard to go on display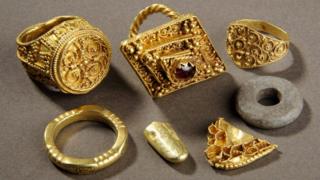 A "significant" hoard of Anglo Saxon gold unearthed by a metal detector in a Leeds field is to go on show.
Seven objects including four rings, which date between the seventh to 11th Centuries, were discovered in separate searches in 2008 and 2009.
The exact location of where the gold was discovered was never disclosed.
Leeds Museums and Galleries said it was "excited" to reveal details of the location in a new exhibition at the City Museum, which opens on Tuesday.
One of the artefacts is a gold ring with a lozenge-shaped bezel set with a garnet gem.
'Jewel in the crown'
It will be exhibited alongside three other gold rings, a gold brooch fragment, a gold ingot fragment and a lead spindle whorl, which was used to spin wool into yarn.
Katherine Baxter, curator of archaeology at Leeds Museums and Galleries, said: "The West Yorkshire Hoard is among the most beautiful, significant and intriguing finds ever to be discovered in Leeds and a lot of hard work has gone into ensuring we can display it in a way that captures just how important it is to the city.
"It's also very exciting that we will be able to reveal where in Leeds this incredible treasure was found for the very first time."
Councillor Brian Selby said: "The story of the West Yorkshire Hoard is fascinating and picturing the discovery of such a stunning piece of history right here in Leeds really captures the imagination.
"Since its discovery, the Leeds Museums and Galleries team have worked tirelessly, firstly to ensure the hoard stayed in Leeds and now to make sure it is given the sort of prominence and profile it deserves.
"This display is a credit to them and a jewel in the crown of the museum's collection."