David Bowie Sheffield tribute mural ridiculed on social media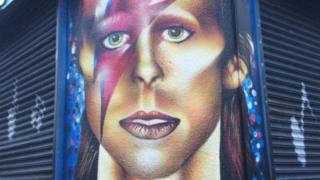 A David Bowie tribute mural created by a Sheffield graffiti artist has been ridiculed by some social media users.
A 7ft (2.1m) painting by Trik featuring Bowie in the persona of his character Aladdin Sane has appeared on a street corner in the city centre.
One Twitter contributor remarked, "How did you find an artist with no idea what Bowie looked like?", while another asked, "Who is that a picture of?"
Trik said he found it all "fun", but he might now paint over the picture.
More on this story and others from South Yorkshire
The 25-year-old self-taught artist said: "I'm looking at the reaction right now. It's not very nice to see people talking about me as an artist.
'Let them hate'
"I'm going to get a picture of it, so it will be fine, but I've got to do what I've got to do."
Speaking about the adverse reaction, he said: "Let them hate, I'm finding it fun."
Stuart Robertson was one of several people on Twitter who drew a comparison between the Bowie image and former BBC Radio 1 DJ Pat Sharp.
Another Twitter user, Jon Adams, said: "A novel idea would be to have a tribute that looks like Bowie, who is that a picture of?"
Trik's painting replaced one of Rolling Stones singer Mick Jagger that had been defaced.
A few people have come to Trik's defence - Anne Carter said on BBC Sheffield's Facebook: "Not quite right. But good!"
And Jamie McKelvie tweeted: "I feel really bad for the Sheffield Bowie mural artist."
Meanwhile passers-by in the city centre were also much more positive about the results.
Bowie died from cancer in January, shortly after his 69th birthday.