National Media Museum axes Bradford International Film Festival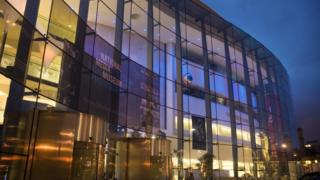 The National Media Museum has confirmed it will no longer run the Bradford International Film Festival.
The event has taken place at the Bradford museum for more than 20 years until last year when it was cancelled pending a review into its future.
In a statement, the museum said it would focus on science, engineering and technology-related activities.
It comes just days after news of the museum's 400,000-strong photography archive moving to London.
Judith Cummins, the Labour MP for Bradford South, said she was "flabbergasted" by the museum's announcement that it will end the festival, which started in 1995.
"Only last week the museum told me that they were 'focused on delivering a vibrant film festival programme', now they are announcing that they are abandoning the hugely popular Bradford International Film Festival.
"It raises serious questions about the direction and focus of the National Media Museum," she said.
"The economic and cultural ramifications of abandoning the Film Festival could be enormous for Bradford.
"How can we seriously have an International Film festival and honour our status as the world's first UNESCO City of Film without the National Media Museum at its centre. It just doesn't make any sense."
'Very important future'
Ms Cummins said she was due to meet the museum's director on Friday to make "my thoughts on this recent announcement crystal clear".
In a statement, the National Media Museum said it would continue to host "film festivals and events of international scope".
"The new focus for the National Media Museum is STEM (science, engineering, maths & technology) and the new mission will concentrate on inspiring future generations of scientists and engineers in the fields of light and sound, as well as demonstrating the cultural impact of these subjects.
"Film remains a very important part of our future plans, but our festival programme needed changes to make it sustainable and aligned with the Museum's new focus."
On Tuesday, the Science Museum Group announced it would transfer the collection of historic images to the Victoria and Albert Museum.
Bradford was designated UNESCO's first City of Film in summer 2009.