Wakefield Cathedral holds first Sunday services after £6.5m revamp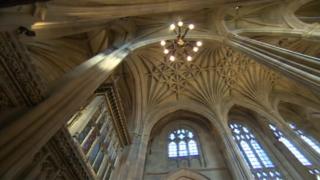 The first Sunday services are being held at a rededicated Wakefield Cathedral after completion of a £6.5m renovation.
The Grade I-listed building has undergone a five-year makeover.
The Very Reverend Jonathan Greener, said: "From top to bottom, east to west; this is one of the most dramatic refurbishment of any cathedral."
The interior has been restored in the project, which began with the removal of the pews and overhaul of the nave.
The second phase has seen clean walls, new lighting and electrics, a level floor, and a renewed St Mark's Chapel.
The crypt and the Chapter House have also been renewed.
"It's been five years hard work and we took a dark and dingy Victorian building and it now looks like a fantastic Medieval space", said Dean Greener.