Mines rescue company moves from closed Kellingley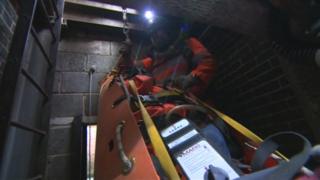 A rescue company that was based at the last deep coal mine in the UK when it closed has opened a new training facility.
MRS Training & Rescue (formerly Mines Rescue Service) had a base at Kellingley, North Yorkshire, when it closed in December.
The company's new training centre in Knottingley comes with a 230 feet (70m) network of tunnels underneath.
These are used for training rescuers to work in confined spaces.
About 70% of the company's trainers are ex-miners and many worked at Kellingley, the company said.
It also runs training courses for the oil, gas and nuclear power industries but rescue work still accounts for about 40% of its work.
The mines rescue service was formed 100 years ago and became part of the National Coal Board until that body was privatised.
The new facility was opened by Yvette Cooper, Labour MP for Pontefract, Castleford and Knottingley.
She said although the deep mine industry had closed it was good to see the skills from mining still being used.