Sacked Leeds United employee Lucy Ward was offered job back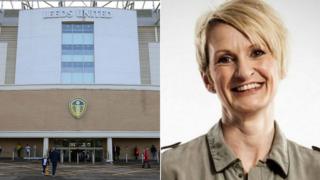 A Leeds United employee who was unfairly dismissed by the club was offered her old job back but turned it down, a tribunal has heard.
Lucy Ward, who claimed she was sacked as she was former head coach Neil Redfearn's partner, won an unfair dismissal and sex discrimination case.
At the tribunal remedy hearing, she said her dismissal changed her life and "destroyed" her confidence.
Club chairman Massimo Cellino left the hearing before it started.
Lucy Bairstow, the club's barrister, explained his absence was due to concern over the press attention.
More on this story and others from around West Yorkshire
Ms Ward, who worked as the club's education and welfare officer, travelled to Canada to work as a BBC pundit at the 2015 Women's World Cup.
The club claimed she was sacked for exceeding her annual leave entitlement.
She told the hearing, held in Leeds, that the club "removed me from the job I had loved for 17 years" and described the process of her dismissal as "horrendous".
Responding to the job offer, Ms Ward said: "It's a toxic environment in there now, I don't think anyone could seriously expect me to go back."
Ms Bairstow said the club had sent a letter of apology to her, in which Mr Cellino apologised for mistakes made by the club.
Ms Ward described the apology as "not genuine", but "damage limitation".
She said: "He knew what he was putting me through."
'Can't get a job'
In a written statement, Mr Cellino said he regretted not "publicly apologising" to her via the club's original written statement.
Ms Ward said she has applied for similar jobs since being dismissed, but has had no success.
She said: "If this process hadn't happened to me I would have a job. Now it has, I can't get a job. There's no coincidence there."
The club argued she has had lots of positive publicity during the matter.
The tribunal is due to reconvene privately on 21 June to decide a settlement, with a written judgement due after that date.