Calls to re-use 'original Northern Powerhouse' mills in West Yorkshire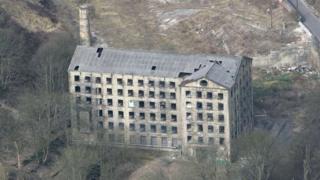 Owners and developers are being encouraged to do more to regenerate the 1,365 mills in the West Yorkshire region currently lying empty.
Historic England said the mills were "a great resource for the future".
It said where conversions had taken place they had made a positive contribution to the local economy.
The report said re-using empty mills could provide thousands of homes potentially create thousands of jobs.
Historic England's planning director for Yorkshire, Trevor Mitchell said: "These textile mills are the original Northern Powerhouse and a great resource for the future.
"They still shape our skyline and are providing new spaces for the creative and digital industries as well as housing.
"We want to work with partners willing to find creative solutions to bring new uses to these old mills to secure their future."
The Engines of Prosperity report said a generation on from pioneering re-developments at Salts Mill and Dean Clough Mills in the Leeds City region there were still a significant number of mills sitting idle and at risk of decay.
Stephen Miles, from Cushman & Wakefield, who were involved in compiling the report, said mills were considered high risk ventures by some.
"We need to overcome this by learning from those that have done it well... to have a lasting impact on the region's economy and on the survival of our heritage," he said.