Diverted flight passenger billed £12,000 after 'outburst'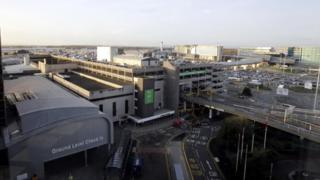 A passenger on board a flight from Leeds Bradford Airport has been billed £12,000 by an airline after an "outburst" led to a flight being diverted.
Jet2 said Joshua Strickland's "absolutely unacceptable" behaviour led the flight to Larnaca in Cyprus to be diverted to Manchester Airport.
Phil Ward, from Jet2, said it caused "distress plus significant delays".
The 21-year-old has also been given a life ban by the company.
Mr Strickland, from Tadcaster, was also arrested by police over the incident when the plane landed in Manchester and a separate criminal investigation is under way.
At Manchester Magistrates' Court, Mr Strickland denied a charge of acting in a manner likely to endanger an aircraft or a person on board.
He was released on bail and is due back in court on 28 July.