Police Land Rover spray-painted silver by vandals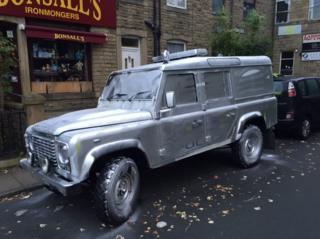 A police Land Rover has been spray-painted silver by vandals.
The vehicle was targeted between 21:30 BST on Monday and 04:45 on Tuesday in Hebden Bridge, West Yorkshire.
Insp John Simpson said while some "might find this funny" the vehicle would "be off the road whilst it is repaired at a cost".
He added: "It is a specialist vehicle used to access the more rural areas of Calderdale and as such is an essential vehicle for the local communities."
The force said it did not have a dedicated car park for police vehicles in the town, adding that the Land Rover had been parked in the location at other times without incident.