Sir Titus Salt's family oppose Saltaire business park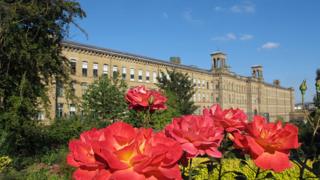 Descendants of a Victorian philanthropist have opposed plans for a business park on the edge of the village founded in his name.
Relatives of Sir Titus Salt, who established Saltaire, near Bradford, have said the proposed development would be a threat to the site's heritage.
Their intervention came on the 15th anniversary of the village' being designated a UNESCO World Heritage Site.
Developer KDPS said the project "would substantially enhance" the area.
Saltaire was built by Sir Titus in the 1850s and provided housing and other facilities for the 3,000 workers at his woollen mill.
It is surrounded by countryside and is the starting point of a walking trail through the Yorkshire Dales.
'Open season'
Architectural consultant Nick Salt, the great, great grandson of Sir Titus, has written a letter to Bradford Council objecting to the scheme, claiming it would "signal open season for those who want to destroy our heritage".
If approved, the new business park, innovation and technology centre would be built on Milnerfield Farm, which contains a house that was built and lived in by Sir Titus's son, Titus Salt Junior.
David Beal from KDPS said the business park would not affect the land's greenbelt status or have an impact on the World Heritage Site designation.
He added: "The intention of this planning application is to create a world-class innovation centre that is attracting international finance and innovators, and will help reverse the decline of the Bradford region and help it to compete in the global economy putting it at the forefront of the Northern Powerhouse initiative."