M62 shooting: Man dies in Huddersfield police operation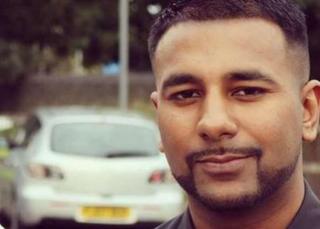 A man who died in a police shooting during an operation on a motorway slip road has been named as Yassar Yaqub.
West Yorkshire Police said a force firearm was discharged just off the M62 in Huddersfield on Monday evening.
Police are believed to have searched Mr Yaqub's home in Rudding Street, Huddersfield. Officers with guns could be seen at the front and back.
A force spokesman said five people have been arrested as part of the operation, including three in the M62 incident.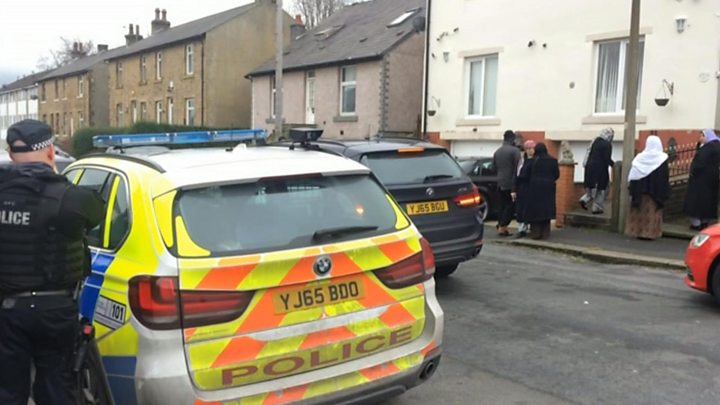 It related to "information received about criminal possession of a firearm", with vehicles stopped at two locations, said the force.
Police said the operation was not terrorism-related. Traffic is now able to access the M62 eastbound at junction 24. All other slip roads remain closed.
For live updates and more from across West Yorkshire
Several of those arrested required hospital treatment for injuries "not related to firearm discharge", the police spokesman said.
No officers were injured in the incident, which has been referred to the police watchdog.
A West Yorkshire Police spokesman said: "During a pre-planned policing operation near to the M62 in Huddersfield, a police firearm was discharged and a man has died.
"An immediate referral has been made to the Independent Police Complaints Commission (IPCC), who are in attendance in West Yorkshire, and West Yorkshire Police are fully co-operating with their investigation."
A spokesman for Mr Yaqub's family said "they are in shock, and are distraught". He asked for their privacy to be respected.
---
At the scene: BBC reporter Nick Garnett
West Yorkshire Police is calling it a "pre-planned operation" and, looking at the number of police vehicles involved, it is fairly clear this wasn't a response to something the force did not know about.
The operation appears to have been planned around one car - believed to be an Audi.
It appears to have been heading off the M62 at around 17:30 GMT on Monday, heading towards Huddersfield, when it was stopped by at least one unmarked police car that was following it.
The car that was stopped, which is still there this morning, was boxed in. Shortly after this a shot was fired and a man died.
A close-up photo shows the marks from what appears to be three bullets in the Audi's windscreen and a side window that has been smashed.
---
The spokesman said two of the five arrests were made during a second vehicle stop in the Chain Bar area of Bradford, also at about 18:00 on Monday.
The IPCC said an investigation into the incident was under way and the man's family had been informed.
Eyewitness Rahul Tandon, from Halifax, told BBC Radio Leeds he was stopped by police on the exit slip road of junction 24 as the incident happened.
"Over the next 10 to 15 minutes there was frenetic activity as more and more police vehicles arrived," he said.
"At about 6:15 to 6:20, policemen were running up the slope to an ambulance and beckoning them to come quickly."
He said the police eventually told him and other drivers to leave the scene by reversing up the slip road and back on to the M62.
'Absolutely horrendous'
Shahnaz Malik, 54, who lives close to the scene of the shooting, said she had seen "a swarm" of police officers as she looked out from her back garden.
She added: "It's quite frightening. [Ainley Top] is a little village and we all sort of know who's who.
"It's absolutely horrendous... somebody has been shot and killed."
Mr Yaqub was acquitted of attempted murder seven years ago following a shooting in Birkby, Huddersfield.
He was found not guilty after a judge threw out the prosecution case against him, the Huddersfield Examiner reported.
The BBC's home affairs correspondent Danny Shaw said the M62 incident was the fifth fatal police shooting in England and Wales in the past nine months and the first involving West Yorkshire Police since December 2010.
---
Recent police shootings
November 2016: Lewis Skelton, 31, was Tasered and shot dead by Humberside Police in Hull, amid reports he was "running around with an axe".
November 2016: Josh Pitt, 24, died after being shot by a firearms officer in Luton as Bedfordshire Police responded to reports that a woman had been assaulted.
May 2016: William Smith, 36, was shot dead in Goudhurst, Kent, while on bail in connection with the death of 73-year-old Roy Blackman.
March 2016: James Wilson, 24, died in hospital after being shot by Northumbria Police in South Shields after police responded to reports a man was holding a handgun.
---