PM Herbert Asquith's birthplace for sale with 'Downing Street' door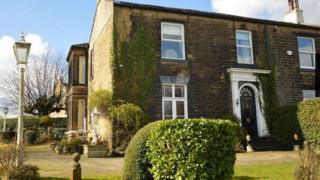 The birthplace of the British Prime Minister who took the country to war in 1914 has gone on sale in West Yorkshire.
Herbert Henry Asquith was born at Croft House in Morley, Leeds in 1852, the son of a cloth merchant.
The Grade II-listed house is on the market for £435,000.
The house's front door, which replicates 10 Downing Street's entrance, can only be opened from the inside.
Asquith became Liberal Prime Minister in 1908, until December 1916 when he resigned amid political unrest and was succeeded by his war secretary David Lloyd George.
Paul Cooke of estate agents Manning Stainton said the current owner is selling the building on on Church Street because she is downsizing but is "passionate about the house's political history."
---
Who was Herbert Henry Asquith?
Born in Morley on 12 September 1852, son of a clothing manufacturer
Educated in London and Oxford
Became a lawyer in 1876, elected as Liberal MP for East Fife in 1886 - despite the limitations of being a young widower with five children (his first wife, Helen Kelsall Mellard, died from typhoid)
Appointed home secretary by William Gladstone in 1892
Married Margot Tennant of Peebleshire in 1894
Became chancellor of exchequer in 1905 after a year out of politics - introduced higher taxes on unearned income to help pay for pensions for over 70s
Became Prime Minister 1908
Period of national upheaval, including Irish Home Rule, women's suffrage and World War One in 1914
Resigned 1916, succeeded by David Lloyd George
Became Earl of Oxford in 1925 and died in Oxfordshire in 1928
---