Bradford's National Media Museum changes its name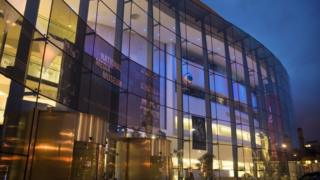 A struggling museum is to change its name and launch a new gallery in an attempt to boost visitor numbers.
The National Media Museum in Bradford is to become the National Science and Media Museum.
A new £1.8m interactive Wonderlab exhibit will explore the science behind light, sound and images.
The museum's director Jo Quinton-Tulloch said the change of name marked "an ambitious new chapter for the museum".
"It is the start of our long-term strategy to look at our core subjects differently and inspire the filmmakers, photographers, scientists and engineers of the future," she said.
"Ultimately, our aim is to take our place among the top international museums and build on our status as a key part of British, Yorkshire and Bradford tourism."
She added: "I understand there have been recent concerns around the museum, but I'd say to those people 'come back and see what we've done as the latest step in our new direction'."
The museum will also feature British astronaut Tim Peake's Soyuz spacecraft in an exhibit from September.
The city-centre venue, which opened in 1983, has seen visitor numbers fall from from a peak of nearly a million in 2001 to 460,000 in 2016.
The Science Museum Group (SMG) which runs it, raised the possibility of it closing in 2013 after concerns over funding.
Last year, there were protests led by Bradford-born artist David Hockney over plans by the SMG to move a collection of up to 400,000 photographs and other items to the Victoria & Albert Museum in London.