West Yorkshire Police use decoy bus to catch anti-social youths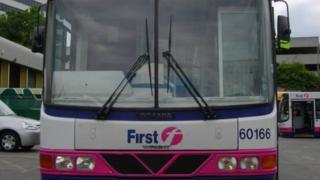 Undercover police officers have been travelling around parts of West Yorkshire on a decoy bus to tackle anti-social behaviour.
The "Trojan" bus is being used in Bradford, Huddersfield and Todmorden, following a spate of attacks on First Bus vehicles by youths.
West Yorkshire Police said buses had stones and objects thrown at them.
In the past four months more than 200 incidents have been recorded by the bus company.
First Bus said there had been 17 vandal attacks in the Bradford area in the past month, including windows being broken, robberies and bus engines being switched off.
There have also been incidents in the Almondbury area involving windows being damaged, and anti-social behaviour in the Meltham area.
'Hide in alleyways'
Officers in plain clothes joined uniformed Police Community Support Officers (PCSO) on Thursday night as the First bus travelled through Bradford Interchange, along Reevie Road, through Buttershaw, Holmewood, Almondbury and Todmorden.
Although no arrests were made, police said the bus was used to gather intelligence on offenders and serve as a deterrent.
Special Constable Jack Mallinson said: "What we see is a lot of young people hiding in alleyways, and when they see a bus they start throwing rocks and things at windows and of course that can cause serious injuries.
"That's something that we want to prevent. We get a lot of attacks at night and so doing something like this does help target issues that local people are having."
"We're showing people that we are doing something about it and get that feeling that we are constantly over their shoulder."