Twitter terror trial: Mary Kaya guilty of IS retweet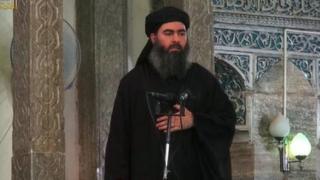 A woman has been found guilty of encouraging terrorism after she retweeted a speech by the so-called Islamic State (IS) leader.
Mary Kaya, 57, from Batley, West Yorkshire, had denied posting a link to an audio clip by Abu Bakr al-Baghdadi.
She was found guilty after a week-long trial at Leeds Crown Court of dissemination of a terrorist publication likely to encourage people to participate in terrorism.
Kaya will be sentenced on 27 March.
Read more about this and other stories from West Yorkshire
The court had heard the Twitter account had been monitored after Kaya's previous address in Dewsbury was searched by counter terrorism police, who arrested her husband in May 2014.
The Twitter account, "Justice", @GardenofGold, retweeted the link to al-Baghdadi's speech, Even If The Disbelievers Despise Such, in November 2014.
Prosecutor Simon Davis told the jury: "The message was aimed at encouraging anyone who listened to or read it to participate in terrorist activity."
Kaya, who was arrested in October 2015, told police she used the account "to see what was going on in the world" and said no-one had access to the account but her.
She would later insist the account must have been hacked and she had not posted anything.