Fashionable Yorkshire exhibit celebrates 500 years of female dress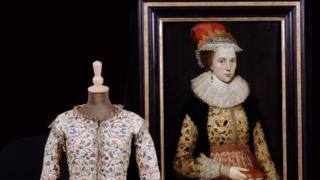 More than 500 years of female fashion will go on display in a new exhibition.
Fashionable Yorkshire at Lotherton Hall near Leeds showcases the outfits and the stories of the women behind them.
Highlights include the embroidered jacket made in the 1600s for Margaret Layton who married a wealthy Yorkshire landowner.
The show includes modern items, such as contemporary woollen flat caps made in Yorkshire by designer Rhian Kempadoo Millar.
Also featured are two dresses dating from the mid-1700s, believed to have belonged to a member of the Priestman family, Quakers from Thornton-le-Dale, near Pickering, North Yorkshire.
Curator Danielle Sprecher, said the change in clothing styles "mirror the changes in our society over the centuries".
"Each of the women's fashion choices have been influenced by the world around them, whether that's the traditional clothing worn by Quakers or vibrant, contemporary designs that celebrate the freedom and diversity of the 21st century," she said.
"By exploring the way clothes and designs have evolved through different eras, we can build a vivid picture of how life has changed for women, preserving the stories of those who have paved the way while celebrating the freedom we have today."
The exhibition runs until the end of the year.