Roman skeletons unearthed at Pontefract building site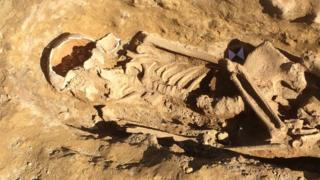 More than 30 Roman skeletons have been unearthed on the site of a new housing estate in West Yorkshire.
The skeletons were found alongside pottery, jewellery and building remains during an archaeological dig at the site in Pontefract.
Most of the graves have now been excavated and the remains will be tested in a laboratory.
David Hunter, from West Yorkshire Archaeology Advisory Service (WYAAS), said they were from about 200-300 AD.
"We are pretty confident they are from the Roman era in Yorkshire so about 1,700 years ago," he said.
"They were probably farmers but they may have done other activities as well."
He said the find was "unique" for the area and could mean more articles of importance are buried nearby.
"To find 30 people in a small farmstead means there could be more in the vicinity and we will look into that for the future," he added.
WYAAS provides advice and information to planning authorities in West Yorkshire to help conserve the most significant heritage sites that are affected by development proposals.
Nansi Rosenberg of Prospect Archaeology, working on behalf of developers, said: "For West Yorkshire, a rural cemetery of over 30 inhumations, dating for the Roman period, is unique and marks an unprecedented opportunity to learn more about our ancestors."
For more stories and features about archaeology follow BBC England's archaeology Pinterest board here.