National Science and Media Museum opens £1.8m exhibit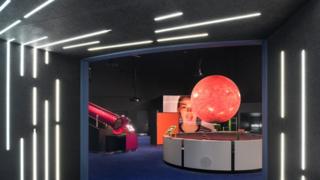 A new £1.8m interactive exhibit has opened at the troubled National Science and Media Museum.
The Wonderlab features more than 20 permanent exhibits on the science behind light, sound and images.
Opened in Bradford in 1983, the museum has seen reduced visitor numbers and a recent change of name.
However Jo Quinton-Tulloch, museum director, said: "The future for our museum is incredibly exciting."
The city centre venue was latterly called the National Media Museum and has seen visitor numbers fall from from a peak of nearly a million in 2001 to 460,000 in 2016.
The museum has also confirmed it will host the Soyuz TMA-19M spacecraft that carried Major Tim Peake to the International Space Station and back to earth.
Visitors will be able to see it in September when it travels outside London for the first time since it was acquired by the Science Museum Group in 2016.
Ms Quinton-Tulloch added: "We want to inspire the next generation of scientists and innovators, or simply open people's eyes to the world around them."
The Science Museum Group that runs it raised the possibility of it closing in 2013 after concerns over funding.
Last year, there were protests led by Bradford-born artist David Hockney over plans by the SMG to move a collection of up to 400,000 photographs and other items to the Victoria & Albert Museum in London.