Leeds International Festival 'will celebrate entire city'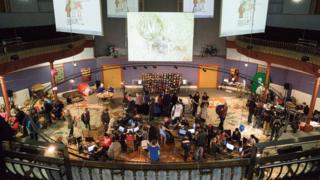 A new city festival incorporating film, music, technology and fashion will "celebrate everything about Leeds", organisers have said.
Leeds International Festival features 35 events over nine days, with both ticketed and free elements.
BBC Broadcaster Lauren Laverne will host an 'Empowering Women with Tech' conference and a new film about Leeds United will be given its premiere.
Andrew Cooper, festival chair, said it would "change perceptions" of the city.
Running between April 22-30, it coincides with the yearly Live at Leeds music festival and will also see talks about cyber security and sustainable fashion.
The festival is being funded by Leeds Business Improvement District, a not for profit organisation which promotes the city.
Documentary 'Do You Want To Win' tells the story of Leeds United from 1988-1992 and features interviews with former players including Gordon Strachan and Vinnie Jones.
Mr Cooper said: "When people come to Leeds they realise things have changed significantly over the last five years and people are saying, 'this is different, there's something happening about Leeds, there's a buzz about it'.
"Events really shape a place and put it on a map - we want to do that through the festival and really celebrate everything about Leeds."