Calderdale and Huddersfield NHS Trust babies in test error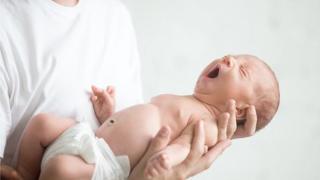 Hundreds of babies have had hearing tests that "may not have been carried out correctly", according to an NHS trust.
Calderdale and Huddersfield NHS Trust said 680 babies born between February 2016 and 17 January in West Yorkshire would be invited to repeat the test.
The error was discovered "during a routine audit", said the trust.
Anne-Marie Henshaw, head of midwifery, said: "There is a low risk that any hearing loss may have gone undetected."
Live updates and more stories for Yorkshire
The trust has not provided further details about the error.
The newborn hearing screening test helps to identify babies with hearing loss as early as possible, according to the NHS.
For every 1,000 babies born, one or two have permanent hearing loss in one or both ears, it said.
Any patients who received a letter about the test should get their child tested again, said Ms Henshaw.
The new tests were a precautionary measure and the trust had taken action to prevent the error happening again, she said.
The trust runs two main hospitals, the Calderdale Royal Hospital in Halifax and Huddersfield Royal Infirmary.
---
How is the newborn hearing test carried out?
A small soft-tipped ear piece is placed in the baby's ear and gentle clicking sounds are played
When the ear receives the sound, the inner part of the ear, the cochlea, responds
The cochlea's response can be picked up by screening equipment
Alternatively three small sensors are placed on the baby's head and neck
Soft headphones are placed on the baby's ears and gentle clicking sounds are played and the response is monitored
Source: NHS
---