Flood-hit Cardigan Arms pub aims for community ownership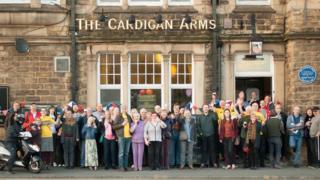 A well-known Leeds pub that was hit by the the 2015 Christmas floods is asking locals to invest £100 each to resurrect it as a community focus.
The Cardigan Arms was left under several feet of water along with many other businesses when the River Aire broke its banks on Boxing Day 2015.
Since then, a project has been launched to turn it into a community-owned pub.
More than 200 people have joined the campaign to save the Kirkstall Road premises, which requires refurbishment.
Investors will become co-op members with voting rights as well as being commemorated within the building.
Campaigner Chris Hill said the group was aiming to raise a total of £300,000 by the end of May and called it a "decent investment opportunity".
The Campaign for Real Ale said there were about 70 pubs across the UK owned by their local community.