Prince Philip death: Yorkshire visits remembered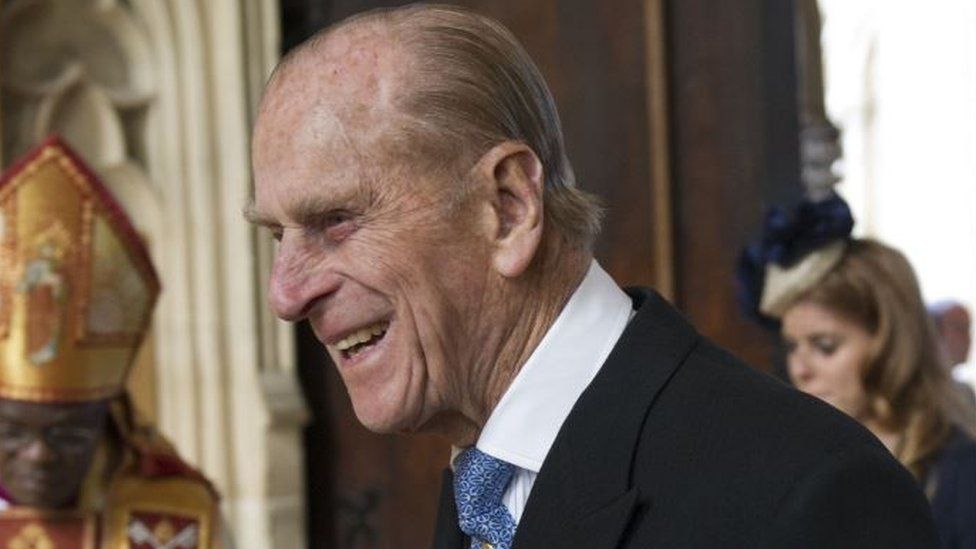 The Duke of Edinburgh will be remembered fondly by many Yorkshire folk who met him.
Prince Philip accompanied the Queen on many visits to the region, including her Jubilee tours.
On one of his final trips in 2015 he amused his audience by describing himself as the "the world's most experienced plaque opener".
That visit marked the opening of Wakefield's £38m police training centre.
He officially stepped down from royal duties in 2017.
One former Lord Lieutenant of North Yorkshire recalled a time when the prince helped young children to get a closer view of the Queen at York Minster.
Charles James Dugdale, speaking in 2002, said: "When they visited for the millennium service there was a walkabout and the Queen went down one side and the duke went down the other.
"There were a lot of young people - three, four, five, six-year-olds - with little posies of flowers and the duke lifted them over the barrier and said: 'Now go and give your flowers to the Queen.'
"That was the most brilliant thing to have done."
At Sheffield University in 2010, the former chief executive of Sheffield City Council found himself discussing carriage-driving, beer and universities with the prince.
"I've got all these subjects in my head to talk to Prince Philip about and I end up talking about beer," John Mothersole said.
The duke had been presented with a bottle of beer from a local brewery on his visit.
The duke also marked Yorkshire's mining heritage with several visits underground.
He visited the Selby coalfield in 1989 and the mining museum at Caphouse Colliery near Wakefield in 2002.
During that visit he said: "I remember going down several working pits in the early days.
"It is extraordinary to think that an industry which 40 years ago was such an important part of British industry, has suddenly become a museum piece."
The late Dame Ingrid Roscoe, the former Lord Lieutenant of West Yorkshire, said it had been a physically testing visit.
"He took it in good part because he's got guts," she said.
The Duke of Edinburgh also visited Yorkshire for many military ceremonies and was also a frequent visitor to the Great Yorkshire Show in Harrogate.
Related Internet Links
The BBC is not responsible for the content of external sites.