Halifax's Piece Hall delayed opening date set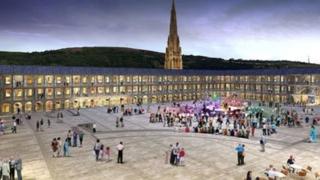 A Grade I-listed cloth trading hall is to open in August after a delayed £19m restoration, it has been announced.
The re-opening of the 1779 Halifax Piece Hall has been put back several times since renovation started in 2014.
It is now to reopen on 1 August, the date of Yorkshire Day, and will have new shops, cafes and offices.
Nicola Chance-Thompson, chief executive of the Piece Hall Trust, said: "That the Piece Hall is an architectural gem is without question."
Live updates and more stories from Yorkshire
The hall, with its redesigned courtyard, will be operated by the trust, a newly-formed charity.
It was built for the trading of "pieces" of cloth - lengths of woven woollen fabric produced on handlooms.
The building reflects the important role played by Georgian Halifax in the woollen trade.
Calderdale Council and the Heritage Lottery Fund have provided most of the funding for the project
Tim Swift, leader of Calderdale Council, said the programme was "restoring and preserving the Piece Hall" and "adapting an 18th Century trading hall into a world class venue for the 21st Century".
---
Halifax Piece Hall
Built 1779 as a trading centre for handloom weavers selling "pieces" of locally-made cloth
Since used for political rallies, pop concerts, and film locations (including Brassed Off)
Fell into disrepair and closed for restoration in January 2014
Calderdale Council contributed £10m towards the £19m restoration, with £7m coming from the Heritage Lottery Fund. Additional funding was raised through a campaign
The council has said its restoration is one of the most complicated and large-scale undertakings of its type in the country