Leeds car crash: Yusuf Jatta died day after dad came home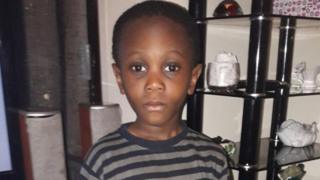 A four-year-old boy was killed after being hit by a car just a day after his father returned from a trip to the Gambia, police revealed.
Yusuf Jatta died after being hit by a car outside the Reginald Centre in Chapeltown Road, Leeds, on Saturday.
His family released a statement saying Yusuf's father, who had been away for a month, had spent a day with him before the "tragic accident".
The car driver stopped and is helping the investigation, police said.
Live updates and more stories from Yorkshire
The family statement said Yusuf was "loved by his teachers" at Hillcrest Academy nursery and was "happy there".
It added: "Yusuf enjoyed travelling and we visited London and Scotland with him."
Det Sgt Mathew Tunney said the force continued to appeal for witnesses.
"We are particularly keen to speak to the driver of a black or dark-coloured Vauxhall Meriva that was stopped at a red traffic light as we believe he would have had a good view of the incident", he said.