Singing job advert attracts new vicar to West Yorkshire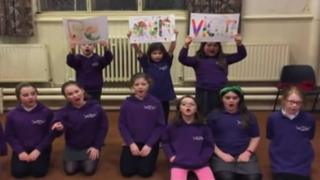 A church in West Yorkshire has recruited a new vicar following a video job advertisement sung by a choir of children.
The parishioners at St Paul's, Shipley, posted the video on Facebook in February after a traditional advert failed to attract any applicants.
It was viewed more than 30,000 times and attracted media coverage across the UK.
The new vicar, Henriette Howarth, will take up the post next week.
The song, written by the children with the help of the church's musical director Rachel Hesselwood, listed the qualities the new vicar needed.
It begins with the lines: "If you want this choice position have a cheery disposition. Make us laugh, smile lots, play games, tell jokes."
Other requirements included "You must be kind, you must be fair. Bible stories you will share.
"Boy or girl it doesn't matter - but you must enjoy Harry Potter!"
It ends with a promise by the children to keep the church tidy and not to "talk in your sermons, we'll be good you'll see".