Ukrainian woman's disappearance 'genuine mystery'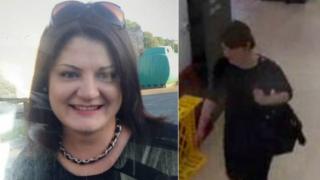 The disappearance "without a trace" of a mother from Leeds is "a genuine mystery", police have said.
Svitlana Krasnoselska, originally from Ukraine, was last seen near her home in the village of Micklefield near Leeds, at 05:00 BST on 3 April.
West Yorkshire Police said her bank accounts had not been touched and it was completely out of character for the 40-year-old to go missing.
Ms Krasnoselska has lived in the UK for 12 years and has a daughter.
Read more about this and other stories from across West Yorkshire
Det Insp James Entwistle said: "We deal with missing people on a daily basis and there's always something to go on.
"With Lana, it's a genuine mystery. We have no idea where she's gone to."
Ms Krasnoselska, who is married with a grown-up daughter, lived in Dunhill Rise in Halton between September and March and has also lived in York.
Specialist search teams with dogs and mountain rescue officers have searched a quarter-mile radius around her home - including in a landfill site, disused quarry and cave systems - but found no useful leads.
Det Supt Lisa Atkinson said: "It's really unusual for people to vanish without a trace. People don't just disappear into thin air.
"Her family are distressed, we're in week five now, but there's nothing.
"I'm keen to speak to any friends or associates she came across during that period and who can tell us a bit about Lana and may give us some clues as to where she is," she said.