David Ward to stand as independent for Bradford East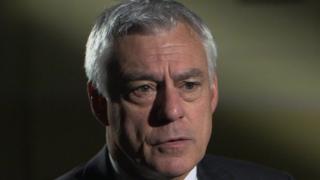 A general election candidate suspended from the Liberal Democrats due to accusations of anti-Semitism will stand as an independent.
Former MP David Ward caused controversy in 2013 when he accused "the Jews" of atrocities against Palestinians.
He planned to stand for the Lib Dems in Bradford East - the seat he lost in 2015 - but was suspended in April, with party leader Tim Farron saying he was unfit to represent the party.
Mr Ward has denied being anti-Semitic.
More stories from across Yorkshire
In 2013, Mr Ward posted a tweet calling Israel an "apartheid state" and saying that "Zionists" were "losing the battle".
He refused to apologise at the time and had the party whip withdrawn.
The following year he was forced to apologise after suggesting he might be ready to fire rockets from Gaza into Israel.
He also tweeted, following the Westminster terror attack in March, that "all terrorist attacks in UK stem from our foreign policy".
'Derogatory comment'
Speaking to the BBC after his suspension, Mr Ward said: "I am a liberal through and through. How on earth could I be racist or be anti-Semitic?
"I would defy anybody to find one single derogatory comment I've made against a Jew which was not related to something being done in Israel."
He said he understood the conflict between Israel and Palestine was a controversial issue, but said "criticising Israel because of what they are doing" did not make him anti-Semitic.
Mr Ward said he had chosen to stand as an independent as he could not appeal against his suspension until after the general election, and because he believed it was up to local people to decide if he should be their MP.
An independent panel is due to carry out an investigation into his comments after the 8 June election.
A spokesman for the Lib Dems said Mr Ward was selected as a candidate by local party members.
However, he said: "As soon as compliance were made aware of his recent comments, an investigation took place where it was established there was sufficient grounds to deselect him as a candidate as well as suspend his membership."
Mr Ward was elected MP for Bradford East in 2010, but lost his seat in 2015 to Labour.