Felt dog from Leeds has audience with Pope Francis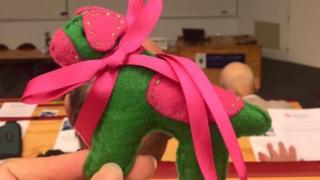 A felt dog has made its way from Leeds to the Vatican, where it was part of an audience with Pope Francis.
The toy is one of about 500 made by 51-year-old Jackie Harrison from Brighouse, to raise awareness of Huntington's disease.
Ms Harrison started the campaign Hounds 4 Huntington's in 2016 in support of her brother who has the disease.
The Pope hosted the world's largest gathering of the Huntington's community in the Vatican at 11:00 BST.
The meeting was inspired by families from South America who are the most affected by the disease.
Families from Colombia, Venezuela and Argentina travelled to meet with Pope Francis and join an audience of thousands at the Vatican to drive awareness of Huntington's and and to lift the stigma around the disease.
Among those attending were Dina de Souza from the Huntington's Disease Association Northern Ireland and Claudio Mustacchi, from the Italian organisation Associazione Italiana Còrea di Huntington AICH Milano Onlus.
Both took felt dogs - inspired by Ms Harrison's own dog, Sybil - to the event in the name of Hounds 4 Huntington's.
Supporters of the campaign have been travelling around the world taking photographs of their toy dogs, joining in on social media with the hashtag #sybilontour.
Ms Harrison, whose mother and uncle also had Huntington's, said: "The first Sybil was made in Christmas 2016 and Sybil on Tour started that summer, when a friend said she would like to take one around underground stations in London.
"Now they have been to Canada, Australia, South Africa, India, all around the world. It's something everyone can get involved in."