Ann Maguire's family granted legal review ahead of inquest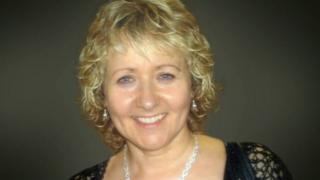 The family of a teacher murdered by a student have been granted a legal challenge against a coroner's decision not to call other pupils as witnesses at a forthcoming inquest.
Ann Maguire, 61, was stabbed to death by pupil Will Cornick at Corpus Christi Catholic College, Leeds, in April 2014.
Her family had an "arguable" case for a judicial review to be heard in July, a High Court judge ruled.
A full inquest is scheduled to begin at Wakefield Coroners' Court in November.
Live updates and more stories from Yorkshire
Cornick, who was 15 at the time, was given a life sentence in 2014 after admitting murdering Mrs Maguire, who had taught Spanish at Corpus Christi for more than 40 years.
At the High Court hearing on Thursday, Mrs Justice Lang said Mrs Maguire's husband, children and nephews had permission to challenge the "blanket" decision made by Assistant West Yorkshire Coroner Kevin McLoughlin to exclude evidence from students who had contact with Cornick "immediately prior to the murder".
She said the coroner decided "not to call as witnesses" those students who were aware prior to the murder that Cornick had a knife and planned to kill the teacher.
The coroner concluded the "risk of psychological harm outweighed the potential benefit", particularly given the length of time since the murder.
Nick Armstrong, the family's barrister, told the court it was the "only occasion on which a teacher has been killed by a pupil in a British classroom" and that "all lesson learning that can be done, should be done".
Mr Armstrong said: "All, including the assistant coroner, accept that student knowledge of school policies and rules on reporting weapons and behaviour is properly within the scope of this inquest.
"The assistant coroner made no inquiry as to the individual circumstances of any former student."
In November 2016, a report by Leeds Safeguarding Children Board said no-one could have predicted or prevented Mrs Maguire's murder.