Leeds Halloween bikers chaos: Twelve plead guilty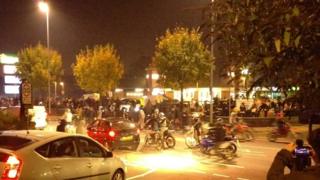 Twelve people have admitted causing a public nuisance after a bikers' Halloween "ride-out" brought a city centre to a standstill.
A large number of motorcyclists tore through streets and pedestrian areas in Leeds on 31 October.
Thirteen men and a woman appeared at the city's crown court on Thursday.
One man denied the charge of causing a public nuisance and another is yet to enter a plea.
Live updates and more stories from Yorkshire
Hernani Banza, 27, of Shafton View, Leeds, pleaded not guilty to "causing a public nuisance by participating in a large scale procession of motorbikes and similar vehicles that rode around Leeds in a manner that interfered with the comfort, enjoyment and safety of the public".
He is to stand trial at Leeds Crown Court on 28 November.
Jamie Ayres, 26, of Lupton Avenue, Leeds, is due back at the same court on 8 June. He is yet to enter a plea.
The 11 men and one woman who admitted the charge are due to be sentenced on 10 July.
All 14 were given bail by Judge Geoffrey Marson QC.
Those who admitted causing a public nuisance:
Omar Ahmed, 24, of Stonegate View, Meanwood
David Armitage, 26, of Brookfield Road, Headingley
Ashley Benson, 25, of Whingate Road, Armley
Michael Clough, 27, of Torre View, Burmantofts
Ben Colley, 26, of Butterbowl Road, Farnley. He also pleaded guilty to driving while disqualified and without insurance
Dean Fawcett, 28, of Intake View, Middleton
Nicholas Flaherty, 29, of Prospect Street, Farsley. He also admitted perverting the course of justice
Rachel Gibson, 29, of Grange Park Walk, Leeds
Joshua Hawley, 22, of Mead Grove, Colton
Dylan Lockwood, 23, of Torre Grove, Burmantofts
Adam Nicholson, 26, of Bellmount Close, Leeds
Anton Rojas, 26, of Skelton Avenue, Burmantofts