'Anti-Semitic' comments at Bradford hustings probed by police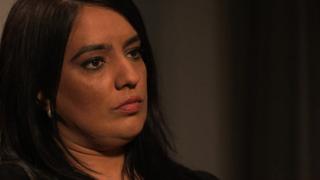 An alleged anti-Semitic incident at an election hustings in the Bradford West constituency is being investigated by police as a hate crime.
Comments can be heard in footage of the event, organised by human rights group JUST Yorkshire on Wednesday.
It is understood the word "Jew" was shouted at Labour candidate Naz Shah after she spoke of her support for "Israel's right to exist".
All confirmed candidates in the constituency took part in the event.
JUST Yorkshire reported the incident, which took place at the Carlisle Business Centre, to police who are investigating.
Heckling 'bad'
Full list of election candidates for Bradford West constituency
Ms Shah said: "I didn't hear it at the time because the heckling was so bad.
"But I have seen the video now, I've heard it with my own ears and I'm glad it has been reported as a hate incident."
All confirmed candidates in Bradford West took part in the event.
Nadeem Murtuja, chair of JUST Yorkshire, which organised the hustings, said in a statement: "JUST Yorkshire condemns every form of hate, racism, Islamophobia and anti-Semitism.
"If I had heard the comment on the night of the hustings, we would have immediately brought an end to the proceedings."
A spokesman from West Yorkshire Police said: "On 2 June, police in Bradford received a report of a hate incident.
"Inquiries are ongoing to establish the circumstances."