No-one to blame for death of woman killed by falling tree, inquest finds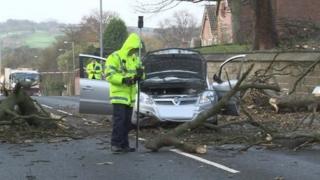 No-one was to blame for the death of a woman who was killed by a falling tree branch, an inquest jury has found.
Elaine Davison, 55, from Pontefract, was fatally injured in Wakefield, West Yorkshire, in November 2010.
She was being driven home by her husband on the A642 Aberford Road when a branch fell and impaled her.
Recording a narrative conclusion, the jury at Wakefield Coroner's Court said no "individual failings" resulted in the branch falling in strong winds.
Read more about this and other stories from across Yorkshire
The jury concluded the tree, the responsibility of Wakefield Council, might have had a disease which was not spotted by "experienced and competent" experts during inspections.
The jury added: "Given the evidence provided, we have not found any individual failings or omissions which caused or contributed to the failure of (the tree) on the night of November 11 2010.
"We have not identified any defects in the evolving systems that were operating at the time of the incident which caused or contributed to the failing of (the tree)."
The inquest had earlier heard how Mrs Davison had implored her husband not to let her die after she was injured.
Her husband, Edward, said his wife had been nervous in the car due to the heavy winds and that he could do nothing to avoid the tree as it fell in front of them.
He said the 4m (13ft) long branch had crashed through the windscreen, with part of the branch impaling his wife through her stomach.
A post-mortem examination found Mrs Davison died from injuries consistent with her abdominal wall being pierced.