HMP Leeds drug use 'unacceptably high'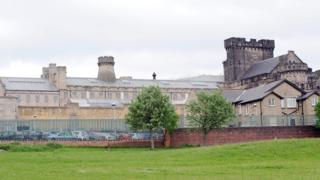 The use of drugs and mobile phones in HMP Leeds is "unacceptably high" and violent incidents are on the rise, according to a new report.
The Independent Monitoring Board found ambulances were called up to 15 times a day for drug-related emergencies and there were on average 46 violent incidents a month.
One recently released prisoner said people "come out worse than before".
The Prison Service said it is taking "unprecedented action" over the issues.
More stories from across Yorkshire
According to the report, 2016 was "another very challenging year" for the prison as a result of national policy changes, the "ongoing and damaging impact" of new psychoactive substances and "sustained levels of violence, including self harm".
'Drugs everywhere'
One prisoner, called Stephen, who was released from the jail earlier this month after a six-week spell for possessing an offensive weapon, said he had witnessed drugs and phones being used on a daily basis.
"It's horrible. There's drug use all over the place, in every cell. There's weapons, phones. There's always illegal stuff in there," he said.
"I've seen proper knives, I've seen sling-shots that can fire razor blades. In one cell I saw an ounce of weed.
"I've seen a lot of [Spice] in there. There was a guy coming down the stairs who had been smoking Spice. He went into a fit, fell down the stairs and arrested on the floor."
He said he had also witnessed drones dropping contraband into the prison.
"People come out worse than before, addicted to drugs and more violent than when they came in," he said.
The report went on to praise the quality and standard of education services in the jail and concluded overall that prisoners were treated with the "appropriate humanity and respect".
A spokesperson for the Prison Service said: "HMP Leeds have taken a number of steps to improve prison safety through increasing CCTV, netting vulnerable external areas of the prison to reduce the number of throw-overs and recruiting more prison officers.
"A local safeguarding policy has also been introduced to stamp out violence and support victims."