Leeds Hospice cements university link in UK first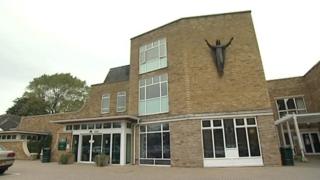 A hospice in Leeds has become the first in the UK to be officially recognised as a university teaching hospice.
St Gemma's Hospice has formalised its relationship with the University of Leeds in a move it says will improve care levels, teaching and research.
The organisations have been working together for more than 20 years.
St Gemma's chief executive Kerry Jackson said the agreement would allow the hospice to build on the "outstanding care" it offers patients.
More stories from across Yorkshire
St Gemma's, in Harrogate Road, Moortown, provides care and support for people with terminal illnesses.
Through its relationship with the university about 200 medical students are able to develop their skills in palliative care each year.
Prof Mike Bennett, who was appointed as the St Gemma's professor of palliative medicine in 2011, said: "Formalising this partnership between two of the city's most respected organisations means patients will continue to be well supported for years to come.
"It also provides an opportunity to raise the profile of teaching and research in palliative care nationally.
"Ultimately it means the people we look after will be treated in the best way possible and, as patients' needs change over time, we will always be in a position to adapt because of the new research which will be carried out."
St Gemma's said the agreement had been supported by NHS Health Education England and the UK Medical Schools Council.