'Betrayal' claim over Huddersfield Royal Infirmary shake-up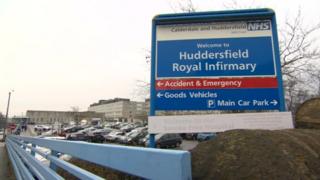 Campaigners claim local people have been betrayed over plans to close a major hospital and replace it with a smaller 64-bed unit.
Calderdale and Huddersfield NHS Foundation Trust want to close Huddersfield Royal Infirmary (HRI) and move A&E services to Halifax.
A consultation held in 2016 had proposed the replacement hospital for Huddersfield would have 120 beds.
The trust said the proposals were based on medical advice from clinicians.
Read more about this and other stories from across Yorkshire
The trust wants all emergency acute and high-risk planned care to be transferred to Calderdale Royal Hospital in Halifax and to close and replace the 400-bed HRI.
Chief executive Owen Williams said services being based across two hospitals meant the trust "continued to face significant quality, safety and financial challenges".
In a report to the Calderdale and Kirklees joint health scrutiny committee it suggests a total future bed requirement of 738 beds at both sites, effectively a reduction of 105 beds.
Campaign group Lets Save HRI said: "We are utterly dismayed to hear that what is now proposed as a replacement for Huddersfield Royal Infirmary is effectively a community hospital with half the number of beds indicated during the consultation period."
The trust has reduced the number of posts it expects to lose due to the changes - from 964 to 479 of its 5,000 staff.
Mr Williams said: "We do not anticipate there to be any redundancies as a part of these proposals as some of these posts are currently unfilled and we expect that the workforce will reduce through retirements and personal job choice over the next decade."
Councillors on the joint health scrutiny committee will consider the proposals on 21 July.
A final business case would have to be approved by the Greater Huddersfield and Calderdale Clinical Commissioning Groups and by NHS England and the Department of Health.